You are here
Fishing | Oregon Adventures | Klamath Fishing Trips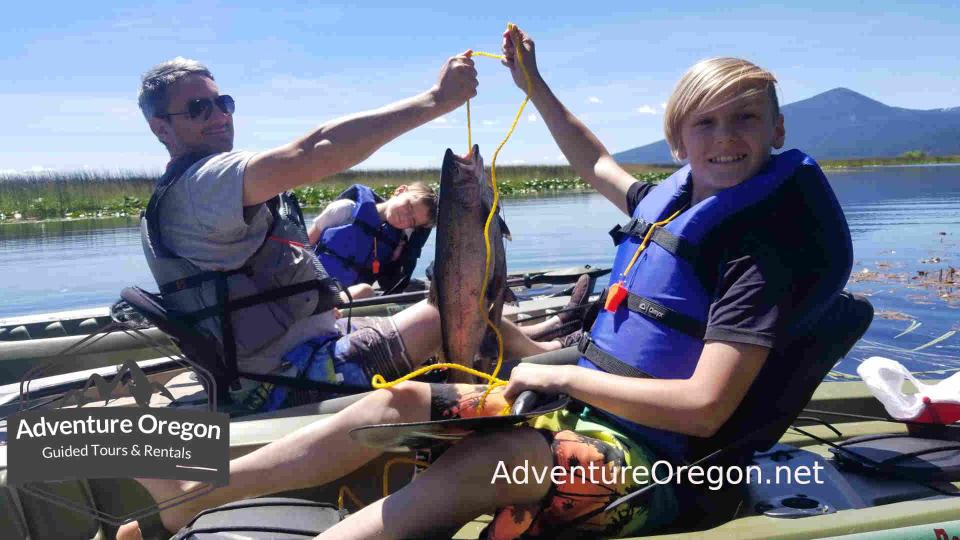 Fishing Upper Kamath Lake for giant Redband Rainbow Trout is a day well spent. From the Rainbow and Brook Trout in the high lakes of the Sky Lakes Wilderness area to fishing adventures in narrow creeks that hold giant Brown Trout. You won't find a more plentiful fishing experience than Adventure Oregon's Fishing Tours.
Upper Klamath Lake and Pelican Bay hold some of the largest native Redband trout in the world. With the average catch being 4-6 pounds and fish up to 10 pounds often tipping the scales it is a trout fishing dream come true. Whether you love fly fishing, casting lures, or using worms you will enjoy one of the most amazing fisheries in the world. Fed by crystal clear springs that run year-round Redband trout migrate to this area in early to mid-summer, making it a spring-fed clear water fish heaven that has amazed fishing enthusiasts for generations.
The Williamson River is one of the most challenging locations to catch Redband trout. Often fished by drift boat or canoe from the Chiloquin bridge south, many anglers choose to fish from the shorelines or wade out into the shallows to catch the elusive trophy-sized Redband trout that make their annual migration up the river. Fishing the Williamson is restricted to artificial flies and lures only and it's closed from October - May.  All Redband trout caught on the Williamson River must be released unharmed back into the water.