You are here
Upper Klamath Lake Oregon | Oregon Adventures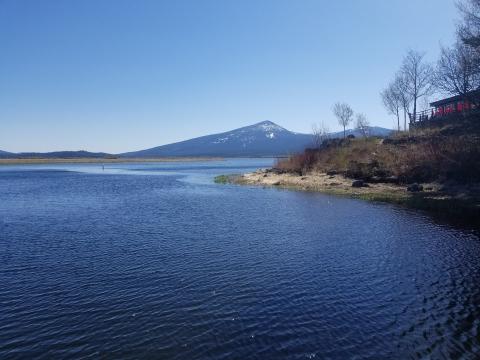 Upper Klamath Lake (sometimes called Klamath Lake) is a large, shallow freshwater lake east of the Cascade Range in south-central Oregon in the United States. The largest body of freshwater by surface area in Oregon, it is approximately 25 miles (40 km) long and 8 miles (13 km) wide and extends northwest from the city of Klamath Falls. It sits at an average elevation of 4,140 feet (1,260 m).
The lake depth fluctuates due to regulation of its water supply and natural drought cycles, averaging between 8 to 50 feet (2.4 to 15.2 m) deep.
Upper Klamath Lake is fed by a watershed of 3,768 square miles (9,760 km2) including the Williamson and Wood River, and is drained by the Klamath River (known as the Link River), which issues from the south end of the lake. The lake is connected by a short channel to the smaller Agency Lake to the north. The Upper Klamath National Wildlife Refuge has been established on land along the northern edge of the lake to preserve natural habitat.
Upper Klamath Lake is the largest remnant of Lake Mazama, a giant pluvial lake that existed in the region until about 10,000 years ago. At its largest, Lake Mazama covered over 1,000 square miles (2,600 km2), joining Upper Klamath, Lower Klamath, and Tule Lakes, as well as all of the major wetlands in the upper Klamath River basin, into a contiguous body of water. The lake was more than ten times the size of present-day Upper Klamath Lake and sat nearly 100 feet (30 m) higher in elevation. Lake Mazama disappeared at the end of the Pleistocene due to a volcanic eruption from Mt. Mazama which is now known as Crater Lake.
Scroll down to see a list of tours starting from this location.
Activities & Adventures Happening Near By