You are here
Upper Klamath Canoe Trail | Oregon Adventures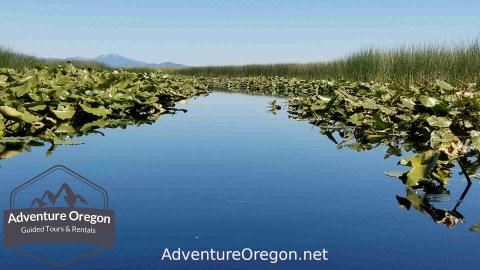 The Upper Klamath Canoe Trail provides a marked, 9.5-mile journey through a larger freshwater marsh. The canoe trail has four segments: Recreation Creek, Crystal Creek, Wocus cut, and Malone Springs with each segment offering a new look at the Upper Klamath Marsh. these segments can be accessed from either Rocky Point boat launch or Malone Springs boat launch. 
Remember, two canoeists can paddle on average 2 miles an hour so plan accordingly.
Where the trail is located 
From Klamath Falls, head west 25 miles on Hwy 140. Turn North onto Rocky Point Rd follow the signs to Harriman Springs Resort & Marina boat launch.
Regulations 
Please observe the following guidelines, they are designed to protect the marsh, wildlife, and you.  
Please remain on designated trails. Other areas within the refuge are closed to protect nesting birds. 

 

Wocus cut trail is for non-motorized boat use only.

 

Please carry out all the trash with you.

 

This is a day-use area only. 

 

Avoid approaching nesting birds and birds with young. 

 

Please carry your drinks in unbreakable containers.

 
As you travel through any segment of the 9.5 miles of the Upper Klamath canoe trail, you cannot escape the dramatic mixture of marsh, open lake, and forest. The meeting of these environments provides a rich habitat for many plant and animal species.
Source: https://www.fws.gov/refuge/Upper_Klamath/canoetrail.html
Scroll down to see a list of tours starting from this location.