You are here
Spring Creek Day Use Area | Oregon Adventures
Glendale St.
Klamath Falls
,
Klamath County, Oregon
97624
United States
Latitude 42° 38' 56.2596" N
Longitude 121° 53' 0.33" W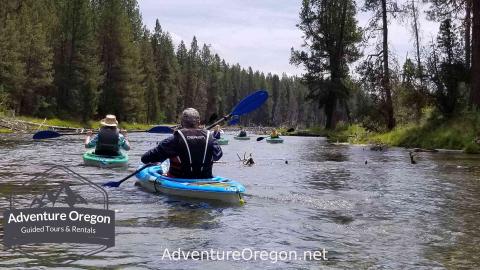 Spring Creek Oregon near Collier State Park has always been a favorite place to experience for many visitors looking for fun and adventure in Southern Oregon. Beautiful memories of crystal clear turquoise water, and eagles all around. Guided kayak and canoe tours here inspire amazement on people's faces as they look into the clear water where you can see all the way to the bottom. Making it up to the headwaters is always the best part, seeing the dancing sand where the water bubbles right out of the ground.
The waters of Spring Creek are almost preternaturally calm and clear. Because the current is mild, paddling upstream to the headwaters is possible for all skill levels, it just takes a little stamina. The current is so slow-moving that you may not notice much of a difference whether paddling up or downstream. If you don't have your own boat, there are local companies that offer kayak rentals or guided tours. Put in along the shore at the Spring Creek Day Use Area, then head upriver, marveling at the water as it shifts from clear to turquoise to jade green and back again. You'll pass by some houses and other buildings, but soon leave it all behind and find yourself surrounded by beautiful forestland and grassy banks.
Spring Tour Creek 2019
Scroll down to see a list of activities happening near this location.