You are here
Rocky Point Resort | Oregon Adventures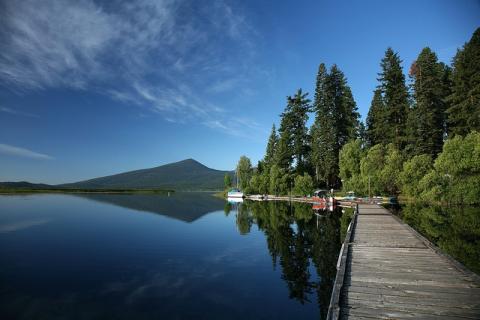 Rocky Point Resort is located on the peaceful Upper Klamath Lake amid gigantic Ponderosa pine trees. The resort is located 30 minutes from Klamath Falls, Oregon, and one hour from Medford, Oregon, and is open from April 1 through November 1. It is adjacent to Rocky Point Day Use Area/Boat Launch.
The resort offers a variety of accommodations including five tent camping sites, 24 RV sites, and five cabins, many with serene lake views. There is also a restaurant and general store on the property to make this a full-service resort in a natural and rustic setting.
For recreation, Rocky Point Resort features access to excellent fishing, boating, and bird watching opportunities. At the resort's boat launch you can glide into the Upper Klamath Canoe Trail with a rented canoe, kayak, paddleboat, or small motorboat. Rentals are available by the hour, half-day or full-day.
General Information
Directions:
From Klamath Falls, take Oregon Highway 140 west towards Medford, Oregon, for approximately 25 miles and then turn right onto Volcanic Legacy Scenic Byway/West Side Road and follow for 3 miles. Then turn right and then left on Rocky Point Road.
To get more info check out: Rocky Point Resort Website
Scroll down to see a list of tours & activities happening near this location.
Activities & Adventures Happening Near By