You are here
Pelican Bay Oregon | Oregon Adventures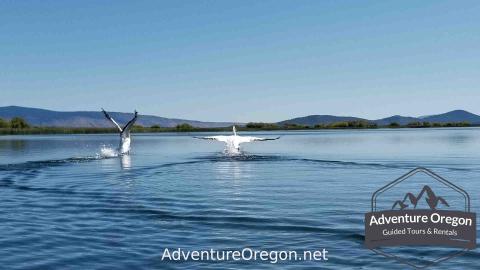 Pelican Bay is located at the northern end of Upper Klamath Lake. Pelican Bay is adjacent to the Upper Klamath National Wildlife Refuge and it connects with Harriman Creek, Recreation Creek, Crystal Cree, and Upper Klamath Lake.
There are 3 prominent and historical resorts in the area which include Harriman Springs Resort, Rocky Point Resort, and Point Comfort Lodge.
Pelican Bay gets its name from the thousands of  American White Pelicans that can be seen there during the annual migration. 
Large and primarily white, the American white pelican has the longest wingspan of any bird in Oregon. It also has an enormous orange bill and flies with its neck withdrawn.
During the breeding season, the top of the bird's head becomes dusted with black and a horn grows on the upper mandible; this projection serves as a target for aggressive encounters to avoid injury to the essential bill pouch but is shed after the eggs are laid.
This pelican makes unusually long flights for feeding and migration, and at great distances, soaring flocks have been reported as UFOs.
Scroll down to see a list of tours starting from this location.
Activities & Adventures Happening Near By