You are here
Lava Beds National Monument | Oregon Adventures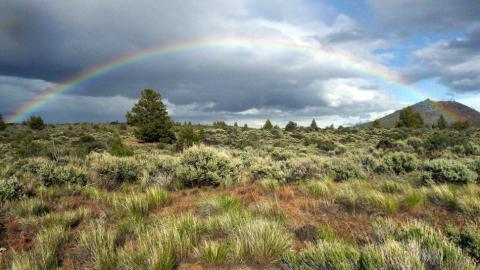 Lava Beds National Monument is a land of turmoil, both geological and historical. Over the last half-million years, volcanic eruptions on the Medicine Lake shield volcano have created a rugged landscape dotted with diverse volcanic features. More than 800 caves, Native American rock art sites, historic battlefields and campsites, and a high desert wilderness experience await you!
Whether you're coming in the summer or winter, a little pre-trip planning will provide you with a safe and enjoyable visit to Lava Beds.
Notes compiled by Lava Beds park ranger Kenneth Doutt
Lava Beds lie on the northern flank of the  Medicine Lake Volcano and cover only about ten percent of the volcano's surface area. At approximately 150 miles around the base, 7,913 feet in height, and covering more than 770 square miles, Medicine Lake is one of the largest composite volcanoes by volume in the Cascades volcanic area.
Eruptions from nearly 200 surface vents created a volcano with a gently sloping profile – like a shield. Here in Lava  Beds, you will find more than 700 lava tube caves, cinder cones, spatter cones, craters, and fault scarps. Twenty-two caves have been developed to ease public use. A dark, quiet,  isolated world apart awaits visitors who venture into these caves.
As a high desert climate area, Lava Beds is home to a  remarkably diverse combination of wildlife and vegetation. There are fourteen species of bats present in the monument,  including western myotis and Townsend big-eared bats. In the lower elevations, mule deer are often visible in herds up to fifty among western juniper groves, and at high elevations, the trees change to ponderosa pines and become home to the rare climate-influenced American pika, found at some cave entrances. In spring, wildflowers abound, and year-round, a  host of unique bird species visit from the nearby Lower  Klamath Wildlife Refuge.
On October 13, 1972, two wilderness units totaling over 28,000 acres were designated by the U.S. Congress at Lava  Beds National Monument.  These wilderness areas equal  61% of the monument's total land area.  For the past forty years, these wilderness areas have been successfully managed to wilderness standards and their natural condition has improved since designation.  Areas previously heavily impacted by grazing, power lines,  and roadways have been actively restored (see Sarah Bone and Nancy Nordensten, Vast Wilderness in a Small Package for more about this restoration effort).
In this rugged, seemingly impassable land, Native Americans made their home for thousands of years. Petroglyph Point has one of the largest panels of Native American rock art in the  United States.
In addition to its geologic features, the monument encompasses the main battlefield of the Modoc War. Captain  Jack's Stronghold, a fortress of lava rock, became the place where the Modoc Indians made a stand for their homeland, refusing to be relocated to a reservation. The ancient lava flows among the shores of Tule Lake are cut with deep lava trenches and dotted with small habitable caves, creating a natural fortification with a seemingly endless number of places to hide. The Modoc War was the only major Indian War fought in California, running from November 1872 until June 1873, and the only one in which a general of the Regular Army was killed. In the end, fatalities included 53 soldiers, 17 civilians, and 15 Modoc warriors (only five of whom were killed in battle). The Modoc leader Kientpoos,  known to the settlers as Captain Jack, and three other Modoc fighters were tried and hung on October 3, 1873, at Fort  Klamath. Captain Jack's Stronghold Trail takes you through the heart of the Modoc War.
Before venturing into a cave, stop by the visitor center to keep yourself and the cave safe. There are 12 hiking trails in the monument and numerous interpretive wayside panels along the scenic roads. Highlighted "must-see" hikes at the park include the 0.7mi Schonchin Butte Lookout trail, Mammoth Crater, and Hidden Valley.
Activities & Adventures Happening Near By
Scroll down to see a list of tours starting from this location.