You are here
Outfitter Guide Apprenticeship Training Program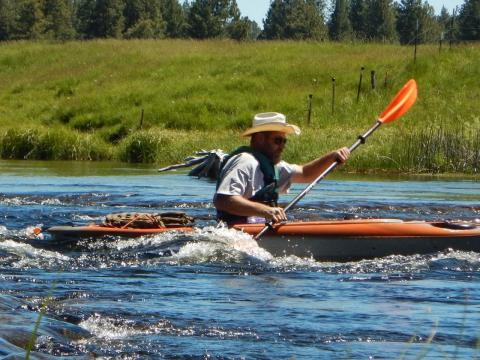 OUTFITTER GUIDE TRAINEES WANTED!
Adventure Oregon with Troy Miller to become a Registered Oregon Outfitter Guide!  That's right! Adventure Oregon is seeking candidates to join our guide apprenticeship program.  Upon completion of this program members will be eligible to test for and receive their Oregon State Marine Board Outfitter Guide certification and become an Outfitter Guide with opportunities to work with Adventure Oregon's clients and visitors touring our local area.  Candidates who meet all requirements will be eligible to receive sponsorship through Adventure Oregon to pay for their state certification and insurance fees.  Sponsorship for state fees and insurance requires a special agreement between Outfitter Guides and Adventure Oregon. (more details will be provided to interested candidates.)
This is a free training program and space is limited, but EVERYONE is encouraged to apply. I will only be selecting applicants who seem most likely to complete the program and can demonstrate their desire to work as a tour guide in Southern Oregon. Those who successfully complete the program will be eligible to sign up as an Adventure Oregon Outfitter Guide. Those who are willing to sign a 2-year agreement with Adventure Oregon may be eligible to have their licensing fees and insurance paid by Adventure Oregon. This offer is subject to terms and conditions and is limited to availability.
Guide trainees will learn:
Water Safety and best practices while working with clients.
CPR, First Aid, and AED
How to fish our local waters and how to assist clients who are doing various fishing activities.
How to operate various types of paddle craft like Kayaks, Canoes, and Stand Up Paddle Boards. The focus will be on safety and proper paddling techniques.
How to operate various types of motorized watercraft.
River routes and how to negotiate various waterways, like the Williamson River, Wood River, and other Upper Klamath Tributaries.
To be familiar with various types of water safety equipment, including lifejackets, emergency signaling devices, First Aid Kits, AED, and other safety equipment.
To be eligible trainee candidates must.
Be age 18 or over.
Be able to pass a criminal background check, and not have any recent criminal activity that would disqualify you from getting your Outfitter Guide license through the Oregon State Marine Board.
Be free of any unhealthy or illegal drug or substance abuse, or unhealthy chemical dependencies.
Enjoy working in the great outdoors around Lakes and Rivers while assisting others who want to get outside and enjoy life.
Have an energetic and enthusiastic attitude and willingness to challenge yourself to be the best you can be.
Be able to stay calm and focused under pressure or while dealing with an emergency.
Be able to handle being out in the sun, around flying insects, an occasional plunge into cold water, or other things you might encounter while working in the outdoors as a wilderness guide.
Be a resident living in Klamath County.
Be willing to learn and confidently demonstrate all the skills and knowledge necessary to acquire your Outfitter Guide License through the Oregon State Marine Board. 
Be willing and capable of lifting 50lbs to chest height repeatedly throughout the day.
Be physically fit and capable of strenuous activities, including 3-5 hours of continuous paddling in outdoor wilderness environments.
Be willing and capable of assisting clients and families who are involved in touring activities, making sure that they have fun and make it home safely.
Be able to enjoy life while working in the great outdoors!
Be willing to travel to various locations around Klamath County for various training activities.
Complete a minimum of 6 hours of training activities per week.
Complete a minimum of 72 hours of training activities within a 3-month period and demonstrate all necessary skills and knowledge to complete the program within 3 consecutive months. (Those who commit more time may complete the program sooner than 3 months.)
Complete an online application to be reviewed.